Vintage kleding online: 17 x Instagramaccounts met unieke stuks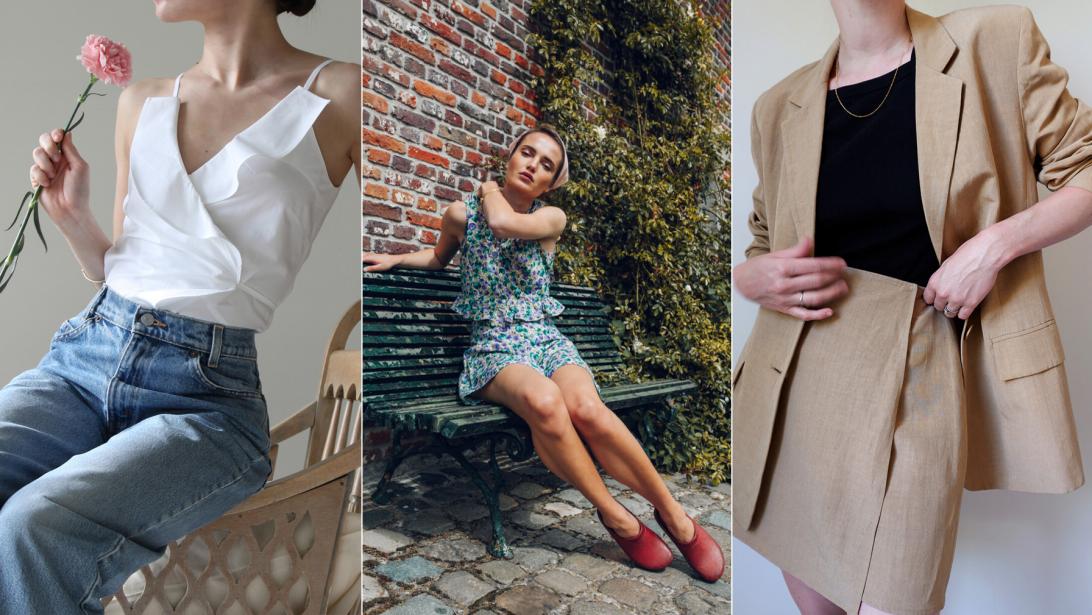 Vintage is hip. Geen trend die weer overwaait, maar een nieuwe manier van (online) kleding shoppen. Waar je moet zijn voor de origineelste stuks? Op deze Instagrampagina's en webshops, bijvoorbeeld.
1. Luxeparel: 'preloved' design
Shari Roosens uit Wilrijk stampte in februari 2020 'Luxeparel' uit de grond; een tweedehands designershop waar je luxueuze items kan strikken. Haar eigen dressing werd een showroom met 'preloved' stuks van onder andere Chanel, Dior, Balmain en Burberry. Verkopers laten hun handtassen, juwelen, jassen, schoenen… beoordelen en schatten door Shari zodat je als koper 100% zeker bent van de echtheid. De zoektocht naar de ideale bestemming, gaat via Instagram en Facebook.
2. Labellov: Try Before You Buy
Ook Labellov is een exclusief, Belgisch platform voor de aankoop en verkoop van luxe, met een focus op designer handtassen. Je shopt hier klassiekers als Hermès, Chanel en Louis Vuitton. Naast de webshop heeft Labellov ook een fysieke showroom (Verlatstraat 15, 2000 Antwerpen). Met hun 'Try Before You Buy' filosofie kunnen geïnteresseerden de items éérst in het echt bekijken en passen. De showroom is ook de plek waar je jouw designer handtas of accessoire binnenbrengt om te verkopen.
3. Piece of Rina: tweedehands en duurzaam nieuw
Ook in Gent huist een online vintage shop: Piece of Rina. Op hun Instagram kan je terecht voor zorgvuldig geselecteerde tweedehands stuks en duurzame nieuwe items. Het platform werkt ook regelmatig samen met kleine slow fashion ontwerpers. Als je iets leuk zag, moet je even DM'en op Instagram.
4. le freddie: vintage bloemenjurken en kraagjes
Bij le freddie (het online winkeltje van Feelings moderedactrices Els Keymeulen en Kristin Stoffels) strik je jurken, jumpsuits, mantelpakjes en trenchcoats met een knipoog naar de seventies. Hun vintage stuks worden verstuurd in eco-verpakkingen én ze wassen en strijken met duurzame producten. Of je kan jouw favoriete item ook gewoon oppikken in de showroom (Ballaarstraat 109, 2018 Antwerpen).
5. Grus Grus: neutrale, natuurlijke stoffen
Berlijn is dé stad waar vintage al even aan zet is. Dóra Földes opende haar offline winkel al in 2018 en de focus ligt er op neutrale kleuren in natuurlijke stoffen; modern en volgens de trends. Hier moet je zijn voor Victoriaanse kragen en havermout jurken.
6. atijọ: betaalbare designer vintage
Vier Londense stylisten en creatievelingen Anu Odugbesan, Caitlin Moriarty, Londiwe Ncube en Safiya Yekwai stampten een vintage platform uit de grond met betaalbaar designer moois (denk: een nineties YSL jurk voor amper € 100!). Stuur hen een DM op Instagram als je iets wil.
7. Retold: minimalistisch mooi
Retold verkoopt on trend minimalistisch tweedehands in perfecte staat, uitgepikt door Clare Lewis. Er zitten enkele betaalbare maar ook duurdere stuks bij haar 'picks', waaronder schoenen, tasjes en zomerjurken.
8. Devore Vintage: shoppable editorials
Devore Vintage is allesbehalve goedkoop maar de kwaliteit is dan ook top. Met shoppable editorials en photographic storytelling brengt de Amerikaanse Hannah Conzelman Joseph haar selectie aan de vrouw.
9. Strange Moon Vintage: betaalbaar tweedehands
Kimberley Nicolson-Moelle heeft twee vintage shops: Strobe en Strange Moon Vintage. Bij Strobe vind je high-end seventies stuks terwijl je bij Strange Moon goedkopere, maar niet minder mooie stuks shopt. Kimberley haalt inspiratie uit de muziekcultuur en streetstyle en is steeds op zoek naar het vintage equivalent. Ze houdt ervan modern met vintage te mixen om elke look een individuele edge te geven. DM als je iets wil.
Binnenkort ook via haar website: strobevintage.com
10. Second Stories: vintage uit alle hoeken van de wereld
Na 15 jaar in de mode-industrie, opende Nicci Fletcher haar eigen vintage shop: Second Stories. Shop er mid priced stuks van merken als Laura Ashley en Aquascutum.
11. Dirty Disco: betaalbaar en fun
Dirty Disco heeft z'n thuisbasis in Manchester en verkoopt betaalbare fun tweedehands. Shoppen zonder schuldgevoel staat hier centraal.
12. Bonsergent Studio: kwalitatief tweedehands
Bonsergent Studio verzamelt vintage en heeft ook een eigen kledinglijn. Vanuit Frankrijk verkopen ze redelijk geprijsde tweedehands stuks. Ben en Cris bieden aan wat ze zelf zouden dragen of kopen. Hun items worden geselecteerd volgens vorm, kleur en materiaal. De kwaliteit van elke stuk en waar het werd gemaakt, is voor hen essentieel. PS Hun edits zijn prachtig.
13. Another Matinee: retro chique
Bij Another Matinee shop je jurken voor een speciale gelegenheid, met retro vibes. Sarah Brand presenteert en combineert ze op een manier waaraan je zélf nooit had gedacht.
14. Darling and Vintage: swingende stuks
Speels en levendig, zo kan je eigenares Cassie O'Neill wel noemen. Ze wil vintage op een hedendaagse manier verkopen door fun en persoonlijkheid aan haar shop toe te voegen. Al dansend toont ze haar beste stuks om te laten zien hoe de kledij zich beweegt bij het dragen. Geen uitgesproken stijl, eerder een eclectische mix; van seventies prairie jurken tot eighties Avant Garde.
15. Signé: voor mensen met goede of slechte smaak
Met prachtige, edgy editorials stelt deze vintage e-boetiek uit Parijs haar designer kleren en accessoires tentoon. Je vindt er tijdloze en authentieke stuks van Yves Saint Laurent, Moschino, Céline of Paco Rabanne. Zoals ze zelf zeggen: voor mensen met goede òf slechte smaak.
16. Studio Travel: Italiaans vakmanschap meets Scandinavische eenvoud
Een online vintage boetiek in Kopenhagen met focus op kwaliteit, stijl en unieke details. De stuks worden uitgekozen in Italië en Frankrijk, geïnspireerd door kunst, muziek, geschiedenis en cultuur. Kortom: Italiaanse mode met een verhaal in de mix met Scandinavische moderne eenvoud. Ook mannen vinden hier hun ding.
17. ChicClotheShoes: uitgekozen door een personal seller
De kleren op Instagramaccount ChicClotheShoes worden zorgvuldig geselecteerd door Steffi Villevet, personal seller uit Parijs. Ze is expert verkoper op Vestiaire Collective en weet als geen ander de beste design en vintage preloved tweedehands schatten bij elkaar te sprokkelen. DM en 't is van jou!
Meer mode
Openingsbeeld: Bonsergent Studio – le freddie – Retold.