ZIEN: Kate Middleton en Prins William delen schattige tuinfoto's van hun kroost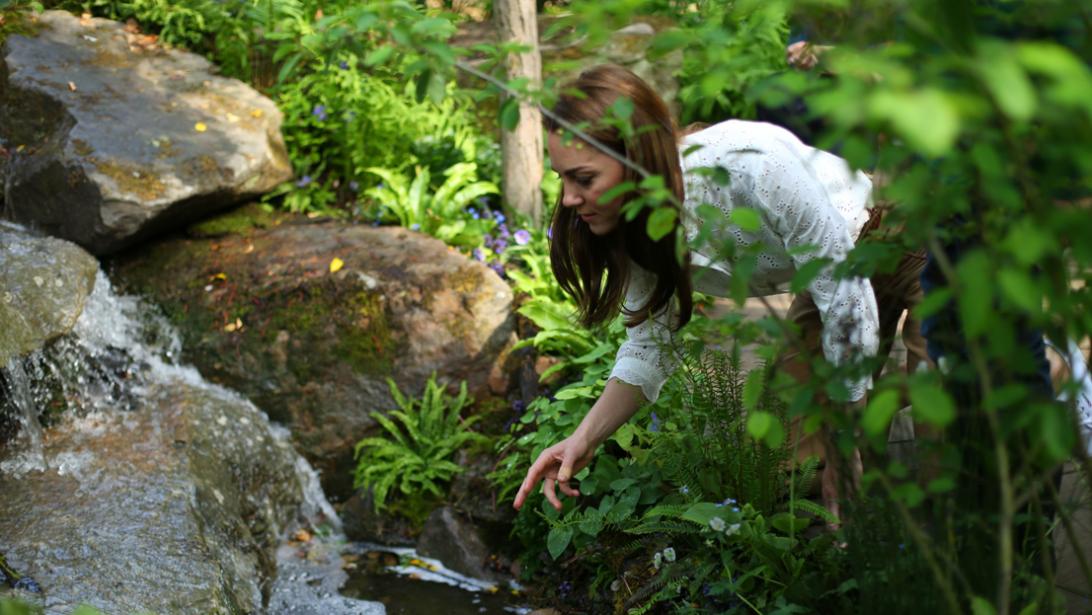 Terwijl Meghan en Harry nog even volop van hun kleine Archie genieten buiten de spotlights, gaven broer William en Kate Middleton het grote pubiek zo-even wel een kleine inkijk in hun family life. Het koninklijke duo bracht afgelopen weekend enkele superschattige foto's van de kleine prins Louis, Prinses Charlotte en hun firstborn George naar buiten, terwijl de familie een bezoekje brengt aan de 'Back to Nature'-tuin die mama en Duchess Kate ontwierp voor The Chelsea Flower Show, een vijfdaagse tentoonstelling van Britse tuinen en landbouw-installaties.
Speciaal voor de gelegenheid ontwierp Middleton – samen met de gevierde en award-winnende tuinarchitecten Andrée Davies en Adam White, een bijzonder frivole, speelse tuin vol paadjes van hout- en twijgjesmateriaal, klaterende watelopen en watervalletjes, houten obstakels, originele bouwsels en zelfs een speeltuigje hier en daar.
Family playground
De opzet van Kate en co was dan ook om een tuin te ontwerpen die erg interactief en uitdagend was – ook voor de jongsten onder ons.
De achterliggende ideologie voor het ontwerp was dat connectie met de natuur en voldoende buitenspeeltijd, een bijzonder positieve invloed kunnen hebben op de ontwikkeling van jonge kinderen, iets waar ze hun hele latere leven zeker ook nog hun voordeel uit zullen halen.
Twijgjes en water
Dat de kinderen van de Hertogin en de prins zelf als eersten de geneugten van de nieuwe familie-vriendelijke tuin mochten ontdekken, was dan ook niet verwonderlijk. En die gezellige gelegenheid hebben de koninklijke ouders – gelukkig voor ons – ook op beeld laten vastleggen ook: op de foto's is onder meer te zien hoe de kleine Louis zijn moeder naarstig helpt in het aandragen van kleine twijgjes, mosjes en takjes voor de laatste aanleg van de tuin.
Op een tweede beeld is te zien hoe de vierjarige Charlotte en de vijfjarige George broederlijk naast elkaar een momentje delen met de voetjes in het water.
Schommelen en avontuur
Tot slot, zien we ook nog hoe mama Kate en haar dochter voorzichtig, maar enthousiast de wooden swing uittesten die de Duchess eigenhandig vrij centraal in de tuin liet opstellen.
Dat het spel-element een belangrijk onderdeel van de tuin uitmaakt, blijkt niet alleen uit de ludieke schommel, maar ook uit het houten boomhut-platform slash vogelnest en uit de vele eetbare kruiden, kleurrijke planten en bloemen met een opmerkelijk geurenpalet die de architecten en tuinspecialisten speciaal in de tuin verwerkten, om een toertje door de tuin tot een ware interactieve beleving te maken.
Mentaal welzijn
Kate zelf lijkt bijzonder tevreden te zijn over het werk dat ze heeft kunnen doen voor de Royal Horticultural Society's Flower Show: "Ik heb het gevoel dat actief zijn in de vrije natuur grote voordelen heeft voor ons fysiek en mentaal welzijn, in het bijzonder voor jonge kinderen dan", zo zei ze in een interview met BBC.
"Ik hoop dan ook echt dat het 'woodland' dat we hier gecreëerd hebben erg inspirerend kan werken voor jonge gezinnen met kinderen om de vrije natuur in te trekken en daar samen een beetje quality time door te brengen."
Lees ook: